Our GMC Team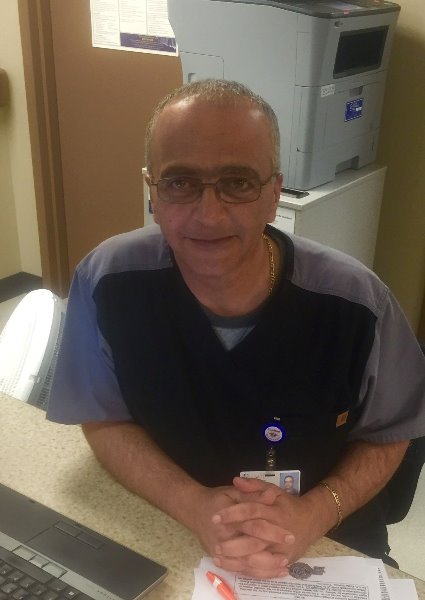 If you or a loved one have been in GMC's ER in the past 20 years, you probably know Simon!
Simon's story is very difficult to condense into a post -- a novel or TV movie might be more appropriate! His life has been very interesting, to say the least – it began in Lebanon where he grew up. By age 14 he witnessed the beginning of Lebanon's civil war, and no doubt that's a story in itself. He graduat

...

ed high school at 16, and received his Bachelor of Arts degree in Hotel Management at age 19. He worked for the Hyatt Regency in different Middle Eastern areas until he and his wife, Denise, immigrated to Pittsburg in 1988 (he had a few distant relatives there). He proceeded to become a PSU Gorilla and obtained his Bachelor of Science in Nursing and began as an ICU/ER nurse at Girard Medical Center, as well as Mt. Carmel and St. John's. Yes – he was working three jobs! And as if that wasn't enough, he went back to school FULL TIME and received his Masters of Science degree in Nursing in 1998.
And that brings us to his current position that he loves – an Advanced Practice Registered Nurse in our ER. Most everyone who knows Simon well agrees that our community is very blessed to have him here. Dr. Paoni, who is the Medical Director of the ER, said Simon is "truly exceptional and is an indispensable asset to our team." Do you want a provider who will give you sugar-coated half-truths? Then Simon is not the provider for you. Want someone who is oozing with knowledge and will do everything in their power to make you better, and possibly save your life? Then he is your man.
So what does a guy like Simon do for fun? More work, of course! He loves to "tinker" with things in his garage and "has more tools than you will believe." When asked what kinds of things he "tinkers" with, he nonchalantly mentioned he remodeled his entire house…by himself.
Simon said all his motivation comes from his wonderful wife of 30+ years, Denise. They have two grown children they are extremely proud of – Rita has a doctorate in Physical Therapy and Peter is in college.
Believe it or not Simon has never woken up wishing he didn't have to go to work that day. Not even on Mondays! Why? He (like his team) immensely enjoys the feeling of accomplishment he has when he can help our patients.
And just for fun…a few favorites of his:
• TV show – The Big Bang Theory (and Discovery channel)
• Movie – A Beautiful Mind
• Food – Traditional Lebanese
• Book – "The Prophet" by Kahlil Gibran
We will end with a fitting quote from his favorite book "You are far greater than you know and all is well." Kahlil Gibran
#OURGMCTEAM #GOODMORNING #PEACHY