Our GMC Team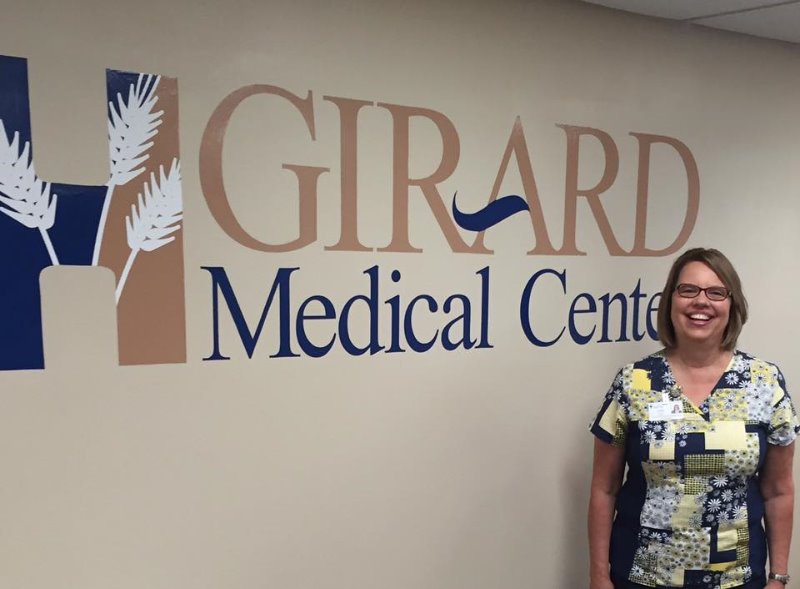 Girard Medical Center not only has great hospital employees – we have some pretty terrific people working in our clinics, as well! Joyce Hagemann is an excellent example – she is an LPN for the Cherokee Clinic and has been working with Dr. Brown for about 14 years. Dr. Brown thinks she is wonderful – he says she is so dependable that she has things done before he even asks!
Joyce goes way back

...

with our hospital. She actually worked for GMC 40 years ago – in 1975 and 1976, then took off a few years to stay home with her three daughters. She re-entered the work force in 1985 and worked about 10 years at the Nursing Home. She became Dr. Davis' nurse in 1995 and worked for him until 2002 when she came to work with Dr. Brown and GMC. Several patients followed her to Dr. Brown's office! She has the kind of personality that draws people in, and she says she really enjoys the friendships that have developed through the years with employees AND patients. She mused that "there are patients who I used to share pictures of children with – now we share pictures of grandchildren with each other!"

She may not look the part, but Joyce is a farm-girl through and through. She grew up on a farm southeast of Pittsburg, then married Richard and moved to another farm by Hepler. (She and Richard just celebrated their 43rd wedding anniversary!) Joyce is a woman of many hidden talents – she has pulled calves and delivered pigs, and she can drive grain trucks, 10-wheelers and tractors. She said she misses the cattle they used to have but now has something that more than fills the void – grandchildren! Daughters Michelle, Kathleen and Erin (and their husbands) have given Richard and Joyce three grandsons and one granddaughter.
Besides doting on grandkids, Richard and Joyce enjoy taking a memorable trip every other year. They have been to many exciting places already, including Alaska, Yellowstone National Park and the Smoky Mountains. Joyce is very active at Immanuel Lutheran Church and their LWML group (Lutheran Women's Missionary League)
Favorites:
• Book: The Bible
• TV: DIY and HGTV
• Food: Mexican
• Movie: Pretty Woman and 16 Candles
We're so happy to have Joyce as part of our GMC family!
Note: We are featuring a different employee of Girard Medical Center each week on our website and Facebook. There is no special order - we have so many wonderful people working here but can only focus on one at a time! Our employees are the reason for our success!