Our GMC Team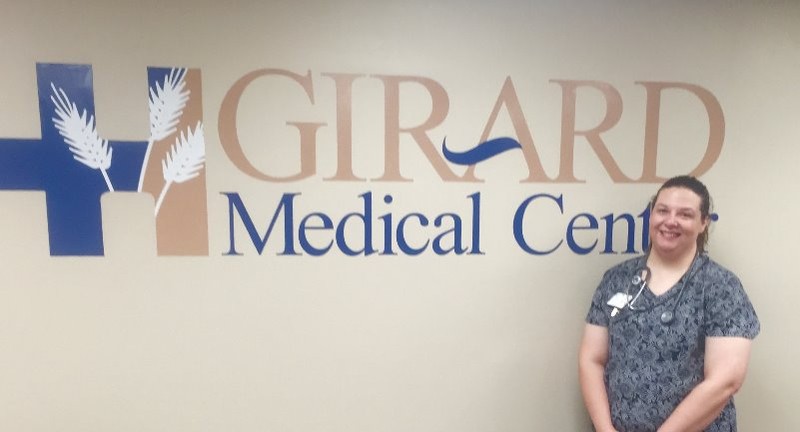 It takes special people to care for our inpatient Senior Behavioral Health patients and RN Sarah Hallacy is a great example of a true caregiver. Her coworkers are quick to agree and say that not only is she caring and understanding with patients and their families, she is also a team player and helps anyone out from aides to the therapist and beyond.
Sarah has a soft spot for geriatric patients as she has worked with them for almost half her life. She followed her Mom and Grandma's footsteps to Good Samaratin Nursing Home where she began work at age 17 in Laundry/Housekeeping. The staff there quickly noticed her potential and encouraged her to go back to school to become a Nurse. So Sarah climbed her way up from a CNA, to an LPN and received her RN license 6 years ago from Mary Grimes School of Nursing. She came to work for GMC in 2010.
Working with dementia patients can be a challenge. "Every hour is different" explains Sarah. She is continually looking for ways to ease the minds of our dementia patients and has discovered hand holding works wonders. That goes with her caring personality. "She treats the families and patients with courtesy and respect," Supervisor Michelle Pollman says. "She is a perfect fit to our unit and we are very blessed to have her!"
Of course Sarah has a complete life outside work! She will be married 4 years in November and her marriage came with a special bonus – a step daughter! "Melanie is 15 years old and she is our world," she said.
A few things she enjoys:
Favorite Food: Mexican
Favorite TV Show: Ice-Road Truckers (she enjoys watching this with her husband)
Favorite Movie: Pretty Woman
Favorite Music: country
Thank you Sarah for being a great member of the GMC family! #OURGMCTEAM
Note: We are featuring a different employee of Girard Medical Center each week on our website and Facebook. There is no special order - we have so many wonderful people working here but can only focus on one at a time! Our employees are the reason for our success!