Our GMC Team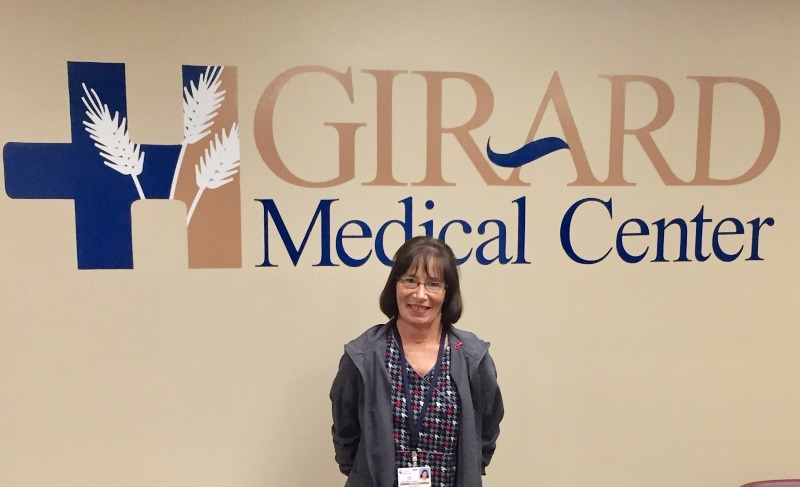 How many people do you know who have worked at the same place since high school, AND have been there over 35 years? Lisa Roberts is one of the few people who can boast of such a feat! Lisa's GMC story began when she came to work for us as a Nurse's Aide in 1980 while she was a senior in high school.
Since 1980, Lisa has worn a LOT of hats at Girard Medical Center. One of her many strengths is her willingness to work wherever she is needed. A few of her many "hats" have included working in purchasing, central supply, swingbed, community outreach, and her current position – Home Health Administrative Assistant. Director of Home Health, Paula Crager, greatly appreciates the dedication of Lisa and feels lucky to have her in their department. Paula went on to say, "Lisa helps us all, staff and patients. She strives to keep our office orderly and is willing to help the home health staff in any way possible. She is a pleasure to work with and is great with patients -- whether she is speaking to them on the phone or helping out in the home."
Director of Community Outreach, Michele Hart, agrees that Lisa is a wonderful asset to GMC. Michele said, "Lisa was the first number on my speed-dial list when I came to work here…she knows the community, and she knows what we had done in the past for our community. She is a certified CPR instructor and is always willing to help out with other community events such as flu shot clinics and health fairs."
Lisa's favorite hat is the one that says "Grandma." She sees her daughter Megan's children practically every single day. Lisa loves spending time with Brinley, who is 4, and Braylyn, who is 1. In addition to their granddaughters, she and her husband of 30 years, Joey, also enjoy eating out, riding 4-wheelers, spending time at the lake and fishing and SHOPPING!
When asked if she enjoys working here she laughed and said, "I must – I'm still here!" She was quick to add she loves her work and fellow employees.
We're glad to have Lisa as part of our GMC family and appreciate the multiple hats she has worn over the past 30 years! #OURGMCTEAM
Note: We are featuring a different employee of Girard Medical Center each week on our website and Facebook. There is no special order - we have so many wonderful people working here but can only focus on one at a time! Our employees are the reason for our success! (Other employees we have featured are under the "About Us" section "Our GMC Team."