Our GMC Team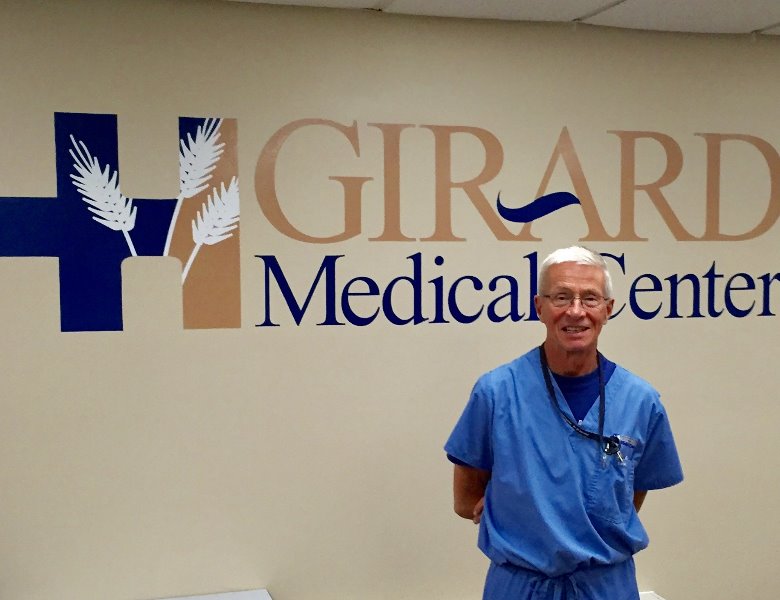 Girard Medical Center and the entire Southeast Kansas community are very fortunate to have this surgeon in their midst! Orthopedic Surgeon Dr. John (Jay) G. Yost has served on Girard Medical Center's Active Staff for over 20 years, and for the past several years we have been blessed to have him as part of our GMC Team.
Dr. Yost has been interested in the medical field since he was a child – it seemed natural for him since his father was an orthopedic surgeon and his mother was a nurse. He saw the positive impact their careers had on them and the satisfaction they got from their work. He followed in their footsteps, went to medical school and trained in New York with an interest in sports medicine. He did a lot of work with the New York Jets and Yankees while there. He then went to Kansas City, opened up a private practice and worked with the Kansas City Chiefs and what are now the Sacramento Kings. He also was the team doctor for what is now the Kansas City Ballet!
Luckily for our community he came to Girard a little over 20 years ago for several reasons. He owned farmland here and his wife of 38 years, Marilyn, had family here. He and Marilyn also liked the idea of raising their three kids (Sarah, John and Anna) in Girard and being able to attend their activities. Their successful children are all now married and are all in the medical field! They have blessed Dr. Yost and Marilyn with six grandchildren and one to arrive in February. He of course enjoys spending time with all of them.
It's hard to believe that as a surgeon, father and grandpa, Dr. Yost has much time for anything else…but he does! He enjoys gardening, animal husbandry around his home, vintage trucks and hand-gun target practice. He's also an accomplished triathlete and has even been invited to participate in the USA Triathlon National Championship several times! People in Girard know how community-minded Dr. Yost is. You may have seen him in Dancing with the Hometown Stars, working events for the Lion's Club, participating in parades for the hospital or doing pretty much anything that's asked of him! How does he do it all? We're not sure, but we are glad he does!
When asked what he likes best about working at Girard Medical Center, he replied, "I enjoy the staff and the close communication we have. It's a joy working with them because they are so experienced, and the work goes so smoothly." The feeling is certainly mutual! Patients and employees alike love Dr. Yost's energy and expertise.
Here are a few of his favorites:
Favorite Book: Hunt for Red October
Favorite Movie: Lawrence of Arabia
Favorite TV show: "The Vikings" on the History Channel
Favorite Music: '70s folk/pop
Favorite Food: Garden vegetables (about what you would expect from a triathlete!)
Thank you Dr. Yost for being a great part of the community and the GMC team! #OURGMCTEAM
Note: We are featuring a different employee of Girard Medical Center each week on our website and Facebook. There is no special order - we have so many wonderful team members but can only focus on one at a time! Our staff members are the reason for our success! (Other team members we have featured are under the "About Us" section of the website)