Ruth Duling, Woman of Distinction!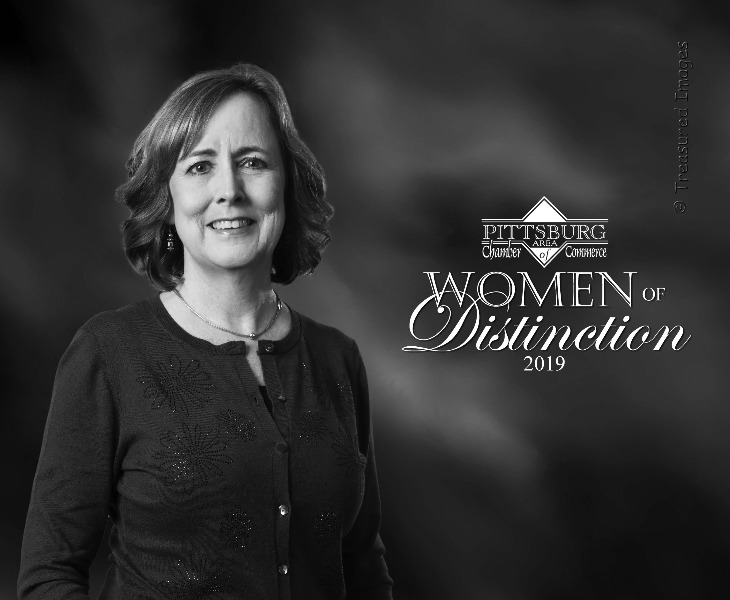 Congratulations to Girard Medical Center CEO, Ruth Duling, for being recognized as one of the 2019 "Women of Distinction" by the Pittsburg Area Chamber of Commerce. Every year the Chamber publishes a calendar honoring 12 local women who lead by example in donating their time and talent to benefit their workplaces and community.
Ruth is well known in the community through her work and volunteer service. She currently serves on the board for the Learning Tree Institute at Greenbush , the PSU Alumni Executive Board, the Irene Ransom Bradley School of Nursing Advisory Board at PSU, the Kansas Hospital Association Hospital Leadership and Governance Committee, and the board of the Girard Housing Authority. She has also served on the Girard Area Community Foundation and the Girard Chamber of Commerce Boards. Ruth also volunteers at St. Michael Catholic Church as organist and supporter of Thursday "In His Name" meals and is a longtime member and past president of P.E.O. Girard Chapter BG.
Ruth is well known in the professional community as well. She has spent 23 years making a difference at Girard Medical Center first as the Director of Patient Financial Services and more recently as CEO. Shortly after her appointment as CEO in 2017, the hospital refinanced their bond issue which in effect saved over $600,000. A large portion of this will be reinvested into the community. The hospital also began an outpatient cardiac rehab program benefitting patients who previously traveled outside the community for this service. Ruth also worked closely with the Community Health Center of Southeast Kansas in securing a medical director for GMC's Senior Behavioral Health program and also negotiated a contract with telehealth providers for the program. Another successful program launched under her leadership is a return to inpatient Hospice care.
There were many hospital employees, physicians, and board members who submitted supporting statements for Ruth 's nomination. Mary Jane Dent, GMC Board Member summed it up perfectly: "Ruth Duling is a woman of integrity and character. She is a self-motivated leader with a desire to achieve and serve others, holds herself and others to high standards, is optimistic and positive, and possesses quiet confidence. Ruth leads by example, gets the best from others, accepts responsibility for both good and bad, and keeps lines of communication open with all. She is also fair and has a great sense of humor. Because of these attributes, she is a respected leader of Girard Medical Center and civic leader in southeast Kansas, making her truly a woman of distinction."
Thank you to Josh Lowe of the Pittsburg Area Chamber of Commerce for allowing us to use his video he produced about Ruth and GMC. It was shown at the Women in Business Breakfast on December 7th: https://www.youtube.com/watch?v=EzckE6ocGZE