Meet Our GMC Team - Angie Mukwindidza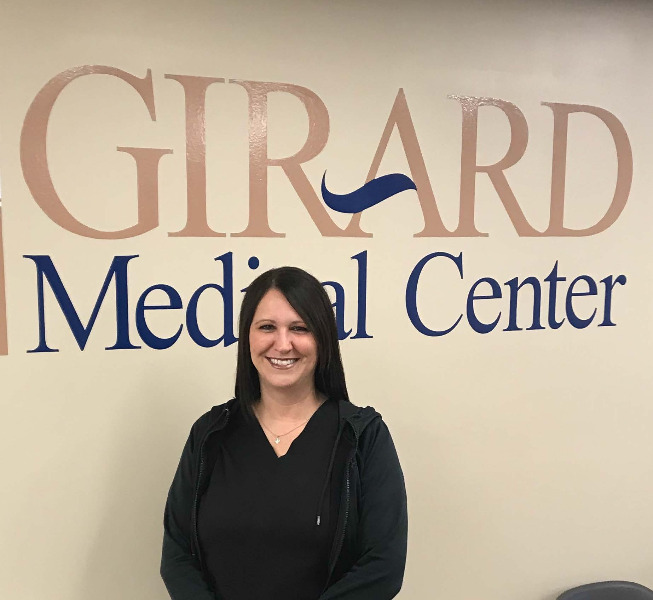 Our featured employee this week is Cardio-Pulmonary Rehab Nurse, Angie Mukwindidza! Angie is a Licensed Practical Nurse (LPN) and a Physical Therapist Assistant (PTA). She received both degrees from Labette Community College.
Angie began her career at Girard Medical Center in 1996 as an OB nurse in the nursery. She worked here 5 years, then went to work at the Surgery Center in Pittsburg as a surgical scrub nurse for 4 years. After a brief time in Kansas City, she worked at (what was then) the Heritage Home as a floor nurse for 7 years. She always has been interested in Physical Therapy, so followed that dream by going back to school and receiving her PTA degree in 2015.
Lucky for GMC, Angie came back to us 3 ½ years ago to work in our Cardio-Pulmonary Rehab Department. This was a new service when she began working here. "Being able to start a new program was a challenge that I never expected," said Angie. She's perfect for the position – patients love her. If you have been around Angie you know she is fun-loving, encouraging, optimistic and always has a big smile on her face!
Angie was born and raised in Girard and has lived here almost all of her life. She currently resides here with her husband of 16 years, Chido. When asked what she enjoys doing in her spare time she happily declared, "My family is my 'jam'!" Her four children are mostly grown now – Brittany is 26 and is a wedding videographer in Pittsburg, Logan is 24 and is an OTA, Olivia is 20 and is a PTA, and Makayla is 15 and is a sophomore at Northeast High School. She loves living close to her parents, Jerry and Diane Hanson, as well.
Angie said coming back to work at GMC was like coming home. "As a child, I always enjoyed visiting my dad in the lab here," she said. "Now I have such a close relationship with my patients and I love my co-workers…it's like home." We agree, Angie! So glad you are part of our GMC family!