Meet Our Staff - Alice Grotheer!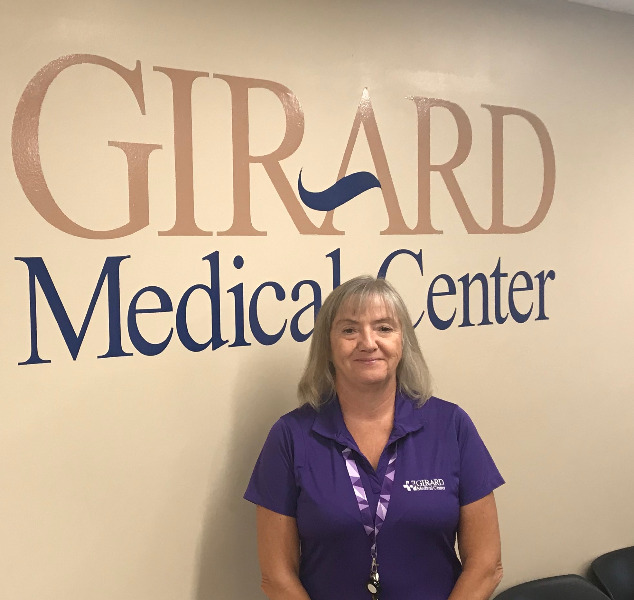 Our next staff member we would like to introduce works "behind the scenes" at GMC. Alice Grotheer has been our accountant for the past 15 years. Her job includes most of the accounting functions as well as preparing schedules for auditors, month-end journal entries, and, most importantly, (for her fellow employees at least) payroll!
Alice grew up in Brazilton, attended Girard schools, and received her Associate's Degree in Accounting from PSU. She worked as an office manager at Producers' Coop for 13 years and then became a school bus driver when her children were small so they wouldn't need to go to daycare. They rode all the routes with her! She enjoyed it so much that she continues to drive the bus part-time some 26 years later! She went back to work full-time when her kids were in high school – first as an accountant for Mid-Continental in Fort Scott for one year before coming here in 2004. Alice also has a 3rd job...she serves as an organist at Trinity Lutheran Church. She started playing the organ in the church in junior high school and has been playing in various Lutheran churches for over 50 years now! In addition to her 3 jobs, Alice manages to find time to enjoy golfing and yard work too!
Alice and her husband, Dan, have been married almost 35 years. They have three daughters, two granddaughters, and a grandson. Amanda and her husband, Enrique, live in Raymore, Missouri and have two children – Gabriel and Isabella. Kendra and her husband, Bryson, live in Pittsburg and have a daughter, Taryn. Their youngest daughter, Erin, is an attorney in Chicago.
Alice is a great team member! She is known for her dependability, willingness to help, and being very supportive of the hospital. Alice enjoys the "family atmosphere" and says she "appreciates how understanding and flexible administration is of personal issues that arise."
"I like my job," Alice says. "I hope to continue here until my retirement." We hope so too, Alice! We are fortunate to have you as part of our team! #OurGMCTeam