Meet our Staff - Erin Battagler APRN!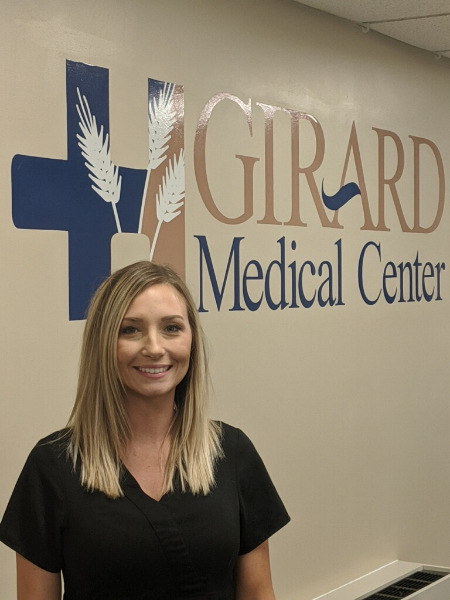 If you have been in Girard driving west on Hwy 47 no doubt you have seen Erin Battagler APRN on our Billboard! Erin is a great representative of GMC, and has been a full-time nights/weekends Nurse Practitioner in our Emergency Department for 8 years.
Erin received her Bachelor's Degree in Nursing from PSU in 2005 and her Master's Degree from PSU in 2010. Prior to coming to Girard Medical Center, she worked in the Emergency Department at Freeman – first as a Nurse, then as a Nurse Practitioner.
She was happy to join the GMC team in 2011. "I love that I work for a smaller hospital where everyone knows you and cares about you and your wellbeing," said Erin. "Before, I felt like just another person working for a large health system - here at Girard, it seems like every one cares a little bit more about what is going on with you and your family."
Speaking of family – Erin and her husband, Travis, have been married for 14 years. He is the manager of Cardiovascular Services at Via Christi. They have two children – Luke is 13 and Olivia is 11. They love to spend time together outdoors, traveling, camping and hiking.
Fellow staff members mention how much of a family person Erin is and how they are her priority. While working, patients become her priority and her team members can't say enough good things about her – "very caring, understanding, dependable, team player, and great bedside manner" are just a few ways the describe her. If you have ever been a patient of Erin's, we are sure you would describe her the same way!
Thanks, Erin, for being such a valuable member of the GMC team!