Meet our Staff - Kaleigh HIll RN!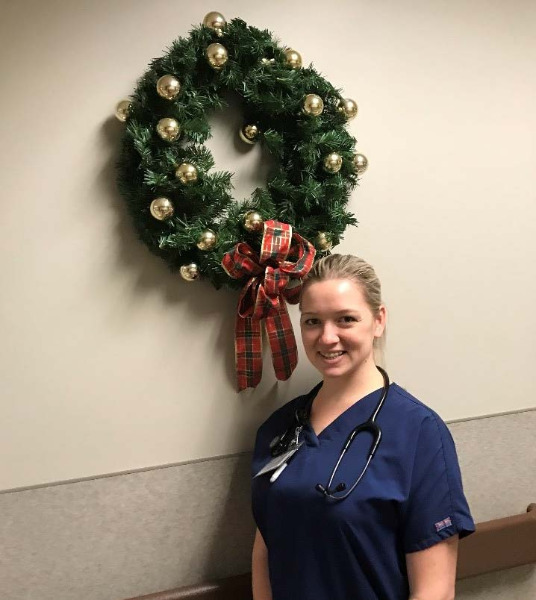 We are featuring Kaleigh Hill RN this week – you may have met her if you or a family member has been an inpatient here. Kaleigh came to us fresh out of school and says she has learned and grown so much since beginning work here 4 years ago. She credits her growth to the kindness and patience of her coworkers.
Kaleigh grew up in Cleveland, Ohio and currently resides in Fort Scott. Before coming to GMC, she owned and operated a home daycare while going to school at night and on weekends. She did her pre-nursing work at Fort Scott Community College and received her associate's degree in nursing from the Metropolitan Community College-Penn Valley in Kansas City. She will be graduating with a bachelor of science in nursing degree from the Kansas University Medical Center this month! She chose the field of nursing because she likes that it's both a science and an art. "Helping others through nursing care is intrinsically rewarding as well as intellectually stimulating," she says.
Kaleigh and her husband, Garrett, have been married 14 years and have 3 children – Ethan, Cora, and Haven. They also have a "fur baby" – a 4 month-old Doberman Pinscher puppy named Belle. The family enjoys traveling and they have been to Pensacola, the Smokey Mountains, the Caribbean and Washington DC.
Kaleigh loves working here for multiple reasons. "Our co-workers become our second families which makes for excellent team work," she says. Her co-workers say that Kaleigh is the very definition of a true team player – she will assist in any situation without being asked. Kaleigh also enjoys the "family-like atmosphere and the way they can get to know patients and their families in a very special way." Co-workers say she is a joy to work with, very smart, is very kind, and patients just love her!
We are so glad Kaleigh chose GMC!