Meet our Staff - Eric Bradshaw!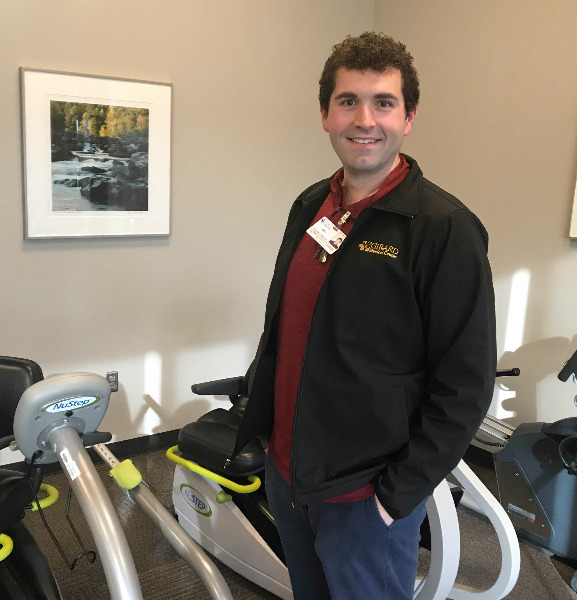 You just might be related to this guy! Our featured employee this week is our Director of Rehab Services, Eric Bradshaw. Apparently quite often he will be working with patients who discover they are his "second cousin once removed" or some other kind of relation. Eric grew up in Pittsburg and his family is from the Girard/Arma/St. Paul area.
Eric came to us 4 years ago from New Mexico where he resided for four years. He did his graduate work at Rockhurst University in Kansas City, MO and received his doctorate in Physical Therapy. He worked six months in Kansas City; but since most of his paycheck was going to student loans, he decided to move to Rozwell, NM to pay them off faster. It was a productive move! He received his credentials to become an OCS (Orthopedic Certified Specialist) and also met his wife, Jacqueline Youtsos MD. Many people know Dr. Youtsos – she has a successful dermatology practice in Pittsburg (and also comes to GMC once a month.). She grew up in Wisconsin – their story could be an article of its own but the gist of it is: (as Eric puts it) Kansas boy met Wisconsin girl in New Mexico.
After spending all their vacations with either his side of the family in Kansas, or her side of the family in Wisconsin, they chose Kansas to lay down their roots. Eric is happy to be close to his family. They reside in Pittsburg with their two daughters – Penelope, 3 and Toula, 18 months. He enjoys spending time with his wife and children at Farlington Lake.
Eric is loved and respected by his patients, as well as his staff. He's known for his compassion, knowledge and great sense of humor. He likes what he does and it shows – he said he always wanted a career that can help people and enjoys the physical movement part of the job. He has worked in several different therapy settings and appreciates how GMC cares for their patients. "I like how it's all about being compassionate and just willing to treat the patient and not focus on the 'almighty dollar,'" he said. "Patient care here is just so different. GMC goes above and beyond caring for the whole aspect of the patient." He also said he appreciates his supportive staff! Their efficiency allows them to continually grow their program.
We are happy to have Eric back in our community and especially at GMC! We are fortunate that he decided to "return to his roots" to raise his family!