Meet our Staff - Jessica Smith!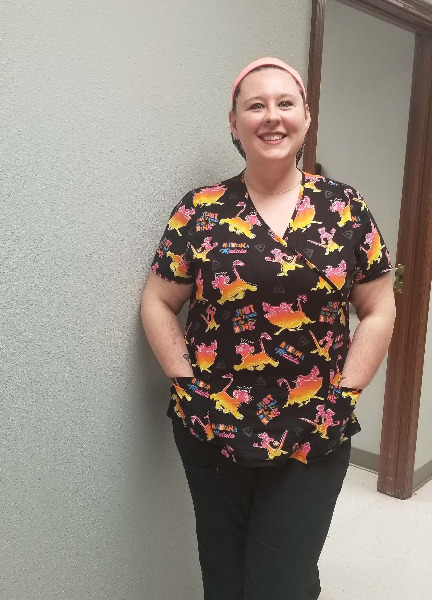 Meet Jessica Smith from our Frontenac Clinic! She is a Registered Medical Assistant (RMA), Receptionist and, according to those who work with her, "Knower Of All Things!" Rachel Stevens MD said she gained that reputation for good reasons! "Jessica is efficient, knowledgeable, kind and compassionate," Dr. Stevens says. "She is our go-to-gal with all questions that are billing, insurance, and computer related. I don't know what I'd do without her!"
Jessica is from Frontenac and went to Pittsburg High School. She received her RMA degree from Wichita Technical Institute for Medical Assisting. She now resides in Arma with her husband of 10 years, Adam. He is a car salesman at Jay Hatfield in Frontenac. Their daughter, Alexis, graduated from Labette last year with an associate's degree and is currently working on obtaining her bachelor's degree in psychology at Fort Hays State University. Jessica enjoys spending time with family as much as possible, and she and Adam are in the process of fostering to adopt through KVC!
Yesterday was Jessica's 10 year anniversary with Girard Medical Center! She said it's hard to believe it's been that long – maybe because she enjoys being with her coworkers every day. "They are basically my family," she says. She also enjoys helping people and patient satisfaction is very important to her. Those who work with her say her patients love her and that she's very thorough and detail-oriented. No doubt patients are highly-satisfied with her!
We are so glad to have this super dedicated employee as part of our team for the past 10 years! Happy Anniversary to Jessica AND Happy Birthday to her this coming Monday! #OurGMCTeam