Meet Our Staff - Karma Michael!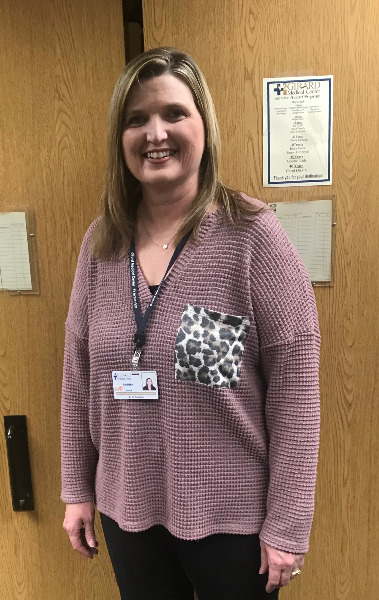 Meet Karma Michael from our Health Information Management (HIM) Department! She is both a Registered Health Information Administrator (RHIA) AND a Certified Coding Specialist (CCS). GMC is required to have someone with her credentials to do our coding. We are so fortunate that she is part of our staff – she is one of the few coding professionals in this area. Anyone who works with her knows how knowledgeable she is in her field. Not only that, she is also described as a very compassionate person who is always willing to help out in any aspect within the hospital!
Karma did her first three years of undergraduate work at Kansas State University, and finished her final year at the University of Kansas Medical Center. Her major was in Health Information Management. She has been with Girard Medical Center for over 20 years now – she worked as a consultant for 17 years, and has been our official part-time employee for the past 3 years.
Karma is from Wilson Kansas and has enjoyed her field of work since she was a teenager. "I chose this profession because I worked part-time in a Medical Records Department during high school and I really liked my job and the people I worked with," she said. "I decided to specialize in coding after my first coding class; I had a great teacher and even though it was my toughest college course I really enjoyed it."
She continues to enjoy her job and said she loves the atmosphere at GMC, and especially her co-workers.
She and her husband, Jim, have two daughters – Morgan and Taylor. Morgan is a nursing student at PSU and Taylor is currently a senior at GHS and plans to major in Biology/Premed at PSU in the fall. In her free time, Karma enjoys traveling with all of them.
We are so glad to have Karma as part of our GMC family!