Our GMC Team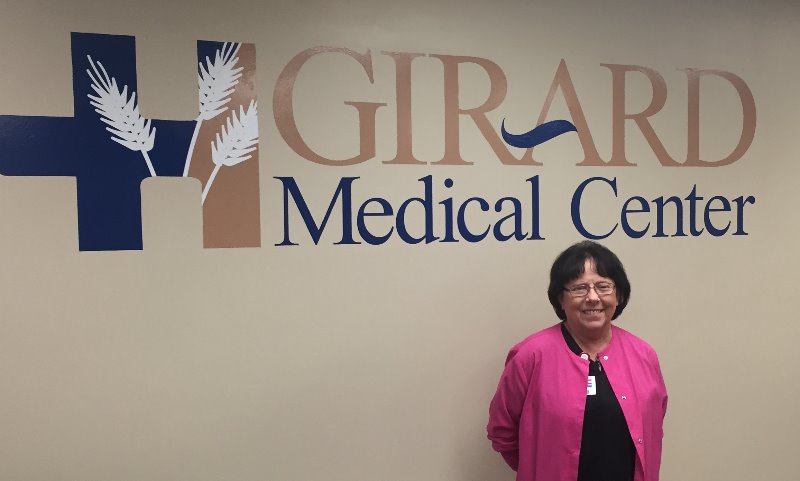 Back in 1976 a stamp cost 13 cents, Rocky was the popular movie, "Don't Go Breaking My Heart" was number 1 on the charts, and Carol Rose began as a CNA at Girard Medical Center! No doubt that all would agree that It takes a very dedicated person to stay at an organization 40 years.
Fellow staff members had nothing but great things to say about her. "Not only is Carol very dedicated, she is also a caring person," said Interim Director of Nursing, Joyce Geier. "She is willing to help in any way she can. She has trained dozens of staff members here, including me!"
Jody Terrill RN, Utilization Review/Team Leader, loves to work with Carol and listen to her laugh with the patients and lift their spirits. She said "Carol has a fantastic work ethic. She is attentive to the patients' needs and always provides the appropriate care. We can count on her to train new employees 'the right way, the GMC way!"
Carol has almost always worked the night shift. Not everyone can make that work but she did (and still does!) She had two young children (Christy and Jeff) when she first started working here, and her shift ended in time to make it home and get them ready for school and on the bus in the mornings. She slept while they were at school and was up to greet them when they got home. She even was able to cheer for them at their ballgames before going to work in the evenings! Carol managed to raise three children (she considers granddaughter Jennifer as her 3rd child) while mostly working nights.
While Carol isn't quite ready to retire completely, she is more than ready to start spending a lot more time with her family. She said she will miss all her friends she sees on a regular basis and misses several who have come and gone. What will she do with her free time? "I have a new grandbaby who I started taking care of when her mom went back to work," she said. "Charlie is now one year old and we will be spending a LOT more time together." She also hopes to spend more time with her husband, Dean. They have an RV and plan to travel more.
When asked what her favorite book was she replied, "I would have to say my Bible. It keeps me going in the times we live in."
Thank you Carol for your 40 years of dedicated service!
Note: We are featuring a different employee of Girard Medical Center each week on our website and Facebook. There is no special order - we have so many wonderful team members but can only focus on one at a time! Our staff members are the reason for our success! (Other team members we have featured are under the "About Us" section of the website)