Our GMC Team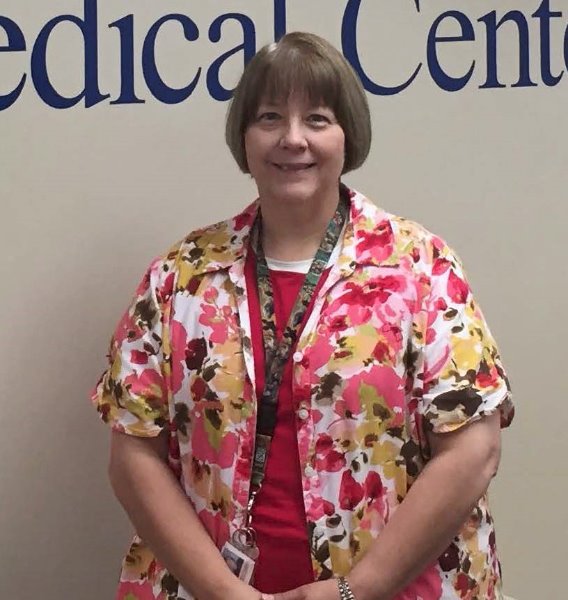 "Joyce will know the answer!" You hear that a lot around here! It's true – and if she doesn't know the answer, she has the problem-solving skills to figure it out!
Joyce Geier came to work at GMC in 1978 when she was trained (by Carol Rose – who is still with us!) as a Nurses' Aid while she was working on getting her Bachelor of Science in Nursing (BSN) at Pittsburg State University. After graduation in 1980 she came to work as an RN on the floor (which then included ER and OB). She quickly advanced to leadership and worked as the Manager of the new ICU unit and Quality Director in 1983. Since family always comes first (then and now), she left GMC a few years in 1990 to work other places hoping to have more hours to spend with her children. She ultimately returned to GMC and says she is very grateful that she was hired back in 1993 as a Home Health Nurse. She became the Quality Director in 1998 and the INTERIM Director of Nursing in 2013. She is quick to gently remind everyone that she is INTERIM (currently in her 4th year – she might be in denial about that).
Now to the most important component of Joyce's life – her family. While she was a senior at Girard High School in 1976, she met her husband, Reggie, at the Roller Skating Rink in Pittsburg (which is now Moore's furniture!). He held her hand during couples' skate and they quickly fell in love and married two years later. They have two children – Sarah and Nathan. Nathan is an architect in Spring, Texas and Sara and husband Daniel live in Pittsburg and have two children – Autumn and Addyson.
In addition to her family, Joyce named a couple of people who have had a very positive influence on her – Norma Hall and Barbara Lohmeyer. When reflecting on her time spent with them she mentioned the calm demeanor and sweet personality of Mrs. Hall, and Barbara Lohmeyer's knowledge and management skills. She said of Barbara that everyone knew they had to "toe the line" but they also knew she had a "softer side." All these attributes Joyce named in these two women can easily be applied back to her! She is described by staff as a compassionate, calm, knowledgeable leader who is very protective of her nurses. Because of the respect everyone has for Joyce, combined with her caring personality, she is truly the matriarch of GMC!
When asked about a few of her favorites, here is what she came up with:
Favorite Movie/TV shows: Star Trek and Star Wars
Favorite Book: Christian Historical Novels
Favorite Music: Christian
Favorite Pastime: enjoying her granddaughters – she especially loves that they are now old enough to ride horses with them. (She also enjoys traveling, ATVing, playing the piano at Church – but all pale in comparison to family time!)
Thanks Joyce for being a vital part of the GMC Team!
Note: We are featuring a different employee of Girard Medical Center each week on our website and facebook. There is no special order - we have so many wonderful people working for us but can only focus on one at a time!