Our GMC Family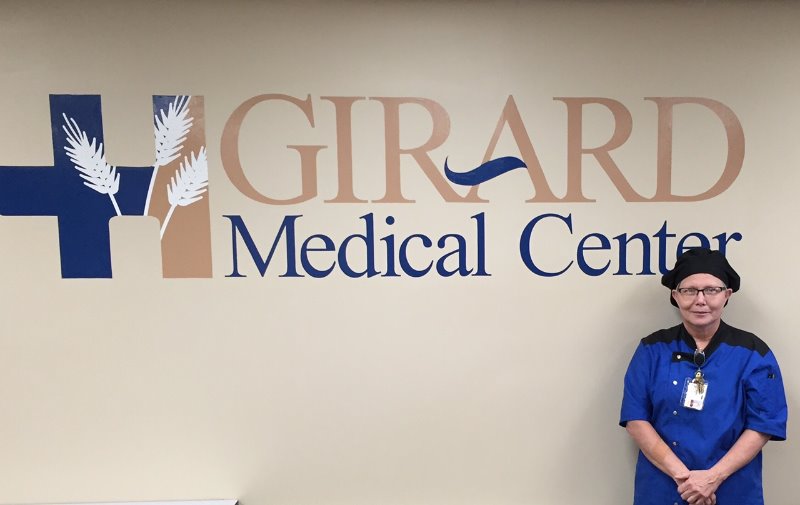 Leanna is the director of the most popular department in the hospital – Dietary Services! And although their food is fantastic, that's not why they are so popular – everyone loves them because nobody is better when it comes to customer service. Leanna leads by example and her mantra is that EVERYONE is their customer – whether it be patients, family members, physicians or fellow employees.
Although cooking is her passion and has ultimately led her to what she is doing today, Leanna has traveled some other interesting paths as well. She began her career in 1983 as a dishwasher at a Nursing Home in Augusta which helped pay for her Dietary Manager Degree from Wichita Votech in 1985. After she received her degree, she was a dietary manager at several different nursing homes for the next few years.
She got side-tracked from her first love of cooking during the Ham CB radio craze and turned her attention toward electronics. She received her Associates of Electronics degree in 1990 (while still working as a dietary manager), and then worked for big computer facility as a lab technician for six years. In 2001 she moved to Iowa to work at a testing lab and traveled back and forth to Japan several times during her tenure there.
Many things led Leanna Ehler back to Girard, Kansas – and her passion for cooking was near the top of the list (second only to family). She started with Girard Medical Center in 2009 and has been the Director of Nutritional Services since 2013. She is quick to tell you how much she loves her staff and how proud she is of them! If you ask them they will tell you she often puts their needs above her own. When Director of Human Resources, Greg Sullivan was asked his thoughts about Leanna he said, "She is one of the most positive staff members that I have the pleasure of supervising. She is always willing to go the extra mile and has done a great job making customer service a priority in her Department."
Leanna has many hobbies including genealogy, gardening, "junk" sales and flea markets and collecting political buttons as well as old locks and keys. In fact she was excited about her purchase of a complete set of locksmith tools from a locksmith sale. She hopes to be a locksmith when she retires. Of course another hobby is cooking and baking – she's looking forward to doing a lot of baking at home in the upcoming Christmas season.
Leanna's favorites are as interesting as she is!
TV Show – How to Get Away With Murder

Book – To Kill a Mockingbird, Political History (i.e.: Hearden's Lincoln) and Stephen King Books

Movie – Fiddler on the Roof

Food – Chili Cheese Fries

Music – Country (she said she can't listen to it at work since the rest of the staff doesn't like it!)
Thank you, Leanna, for being one of GMC's best TEAM players! #OURGMCTEAM
Note: We are featuring a different employee of Girard Medical Center each week on our website and Facebook. There is no special order - we have so many wonderful people working here but can only focus on one at a time! Our employees are the reason for our success! (Other employees we have featured are under the "About Us" section "Our GMC Team."