Welcome New Dietitian, Cathy Naanes!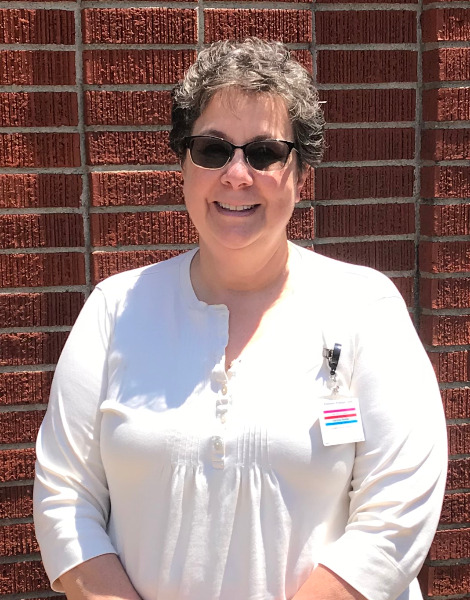 "Breaking bread together is part of every culture. What we eat also has a huge impact on how we feel and how we function." Words wisely spoken by our new dietitian, Cathy Naanes, RD, LD, MBA.
Cathy received her Bachelor of Science in Dietetics from K-State and has been a registered dietitian since 1980. She received her MBA from the University of Utah in 1990. She has roots in this area but has lived and worked in Wichita KS, Utah, Mississippi, Missouri, Alabama, and Okla...homa! She comes to us with lots of experience – acute care hospitals, mental health facilities, senior programs and long-term care (both management and clinical).
You may have heard "if it tastes good, spit it out." Don't believe it! Cathy says it could not be more incorrect. "Food in the trash has no nutritional value," she says. "Nutritious food should also be delicious – a treat for the eyes, mouth and even your ears! Food can also be fun and the variety of foods available is amazing. So much to try and experiment with the flavors and textures."
Cathy has enjoyed working at GMC these past few weeks. She has observed the wonderful approach our staff has to medicine and that people care for the whole person, not just the disease. "The kindness and compassion I have seen is amazing," she says. "Everywhere I go I am greeted with a warm smile."
If you see Cathy, you will quickly notice that she also has a warm smile! Leanna Ehler, Director of Nutrition Services, has said the department has enjoyed working with her. "I have been impressed with Cathy's drive to meet each customer's needs," says Leanna. "I believe she is a fine addition to Girard Medical Center!"
Cathy's position is contracted through Labette Health – she will be at GMC most Mondays and Thursdays. You may know her predecessor, Adele Bohn RD LD – she will be overseeing this position and will fill in for her occasionally.
We welcome Cathy to the GMC Team!