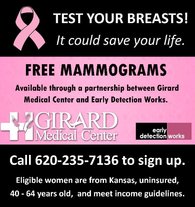 Breast cancer is the second leading cause of cancer death among women, exceeded only by lung cancer. Statistics indicate that one in eight women will develop breast cancer sometime in her life. The stage at which breast cancer is detected influences a woman's chance of survival. If detected early, the five-year survival rate is 97 percent. Girard Medical Center is committed to the fight against breast cancer. Mammograms . . .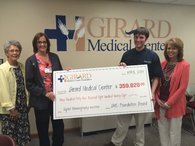 New digital mammography system available at GMC
Girard Medical Center has become one of the first women's centers in the United States to offer breast cancer screening with a state-of-the-art Selenia Dimensions 2D full field digital mammography system. The GMC Foundation raised the entire $358,000 amount of the Mammo, of which $250,000 was raised . . .
Current Highlights
"My surgery experience was truly a positive one. My wife and I were treated extremely well and were kept so well informed about what was going on throughout the entire process." Bill Gifford, Patient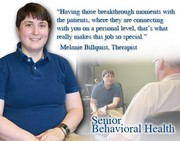 "Having those breakthrough moments with the patients, where they are connecting with you on a personal level, that's what really makes this job so special." Melanie Billquist, Therapist